Is chocolate bad for piles? | Kiya Chocklate Bawaseer Ka Liya Mufeed Ha
As we always said, having piles is not an issue because they can easily be cured under Doctor Omar Chughtai Guidance. Is chocolate bad for piles? Well, this is what this article is all about. This post will clear all your queries related to chocolate and piles and if that sounds interesting to you, let us begin.
جیسا کہ ہم نے ہمیشہ کہا ہے کہ ڈھیر ہونا کوئی مسئلہ نہیں ہے کیونکہ ڈاکٹر عمر چغتائی کی رہنمائی کے تحت ان کا علاج آسانی سے کیا جا سکتا ہے۔ کیا چاکلیٹ ڈھیر کے لیے خراب ہے؟ ٹھیک ہے، یہ وہی ہے جو اس مضمون کے بارے میں ہے. یہ پوسٹ چاکلیٹ اور ڈھیر سے متعلق آپ کے تمام سوالات کو صاف کر دے گی اور اگر یہ آپ کو دلچسپ لگتا ہے تو آئیے شروع کرتے ہیں۔
Few foods are more popular than chocolate. On Valentine's Day, we present it to our sweethearts and bake bits of it into cookies. As much as people like chocolate, others believe it is responsible for one ailment. Many individuals claim that chocolate causes constipation. When researchers asked a group of patients with persistent constipation or irritable bowel syndrome (IBS) which foods provoked their symptoms, most said chocolate.
چاکلیٹ کے مقابلے کچھ کھانے زیادہ مشہور ہیں۔ ویلنٹائن ڈے پر، ہم اسے اپنے پیاروں کو پیش کرتے ہیں اور اس کے ٹکڑوں کو کوکیز میں بناتے ہیں۔ جتنا لوگ چاکلیٹ کو پسند کرتے ہیں، دوسروں کا خیال ہے کہ یہ ایک بیماری کا ذمہ دار ہے۔ بہت سے لوگوں کا دعویٰ ہے کہ چاکلیٹ قبض کا باعث بنتی ہے۔ جب محققین نے مستقل قبض یا چڑچڑاپن والے آنتوں کے سنڈروم (IBS) کے مریضوں کے ایک گروپ سے پوچھا کہ کون سی غذائیں ان کی علامات کو جنم دیتی ہیں، تو زیادہ تر نے کہا کہ چاکلیٹ۔
Is this true? Could this delicious delight have had such an unfavorable side effect? Is it possible that perception differs from a reality? Here's an examination of the relationship between chocolate and constipation.
کیا یہ سچ ہے؟ کیا اس لذیذ لذت کا ایسا ناگوار ضمنی اثر ہو سکتا ہے؟ کیا یہ ممکن ہے کہ تصور حقیقت سے مختلف ہو؟ یہاں چاکلیٹ اور قبض کے درمیان تعلق کا ایک امتحان ہے۔
Is chocolate bad for piles?
Although studies have not shown that chocolate promotes constipation, some individuals say that they have more incredible difficulty going to the toilet after eating it. It's possible that it's not the cocoa's fault. Other components in the chocolate may cause constipation. Chocolate bars and pastries, for example, include milk, which some individuals find constipating. ( Is chocolate bad for piles )
اگرچہ مطالعات سے یہ ثابت نہیں ہوا ہے کہ چاکلیٹ قبض کو بڑھاتی ہے، لیکن کچھ افراد کا کہنا ہے کہ انہیں کھانے کے بعد بیت الخلا جانے میں زیادہ ناقابل یقین دشواری ہوتی ہے۔ یہ ممکن ہے کہ یہ کوکو کی غلطی نہ ہو۔ چاکلیٹ میں موجود دیگر اجزاء قبض کا سبب بن سکتے ہیں۔ مثال کے طور پر چاکلیٹ بار اور پیسٹری میں دودھ شامل ہوتا ہے، جو کچھ لوگوں کو قبض کا باعث لگتا ہے۔
Caffeine, which is found in chocolate, may also lead to dehydration. A lack of water in your intestines causes feces to be dry and difficult to pass. Chocolate-containing meals are often heavy in sugar, which may be difficult on your intestines. Sugar often substitutes healthy, high-fiber meals in your diet, which keep your intestines moving regularly.
کیفین، جو چاکلیٹ میں پائی جاتی ہے، پانی کی کمی کا باعث بھی بن سکتی ہے۔ آپ کی آنتوں میں پانی کی کمی کی وجہ سے پاخانہ خشک ہو جاتا ہے اور گزرنا مشکل ہو جاتا ہے۔ چاکلیٹ پر مشتمل کھانے میں اکثر چینی زیادہ ہوتی ہے، جو آپ کی آنتوں پر مشکل ہو سکتی ہے۔ شوگر اکثر آپ کی غذا میں صحت مند، زیادہ فائبر والے کھانوں کی جگہ لیتی ہے، جو آپ کی آنتوں کو باقاعدگی سے حرکت میں رکھتی ہے۔
How Does Chocolate Affect Different Groups of People?
Various medical issues may influence your body's reaction to chocolate. Chocolate, for example, may cause constipation in persons with IBS. According to the National Institute of Diabetes and Digestive and Kidney Diseases, IBS affects 10 to 15% of Americans. It's unclear why chocolate could lead to constipation in persons with IBS. ( Is chocolate bad for piles )
مختلف طبی مسائل آپ کے جسم کے چاکلیٹ کے ردعمل کو متاثر کر سکتے ہیں۔ مثال کے طور پر چاکلیٹ IBS والے افراد میں قبض کا سبب بن سکتی ہے۔ نیشنل انسٹی ٹیوٹ آف ذیابیطس اور ہاضمہ اور گردے کی بیماریوں کے مطابق، آئی بی ایس 10 سے 15 فیصد امریکیوں کو متاثر کرتا ہے۔ یہ واضح نہیں ہے کہ چاکلیٹ IBS والے افراد میں قبض کا باعث کیوں بن سکتی ہے۔
While chocolate may cause constipation in some individuals, cocoa or its components may aid with constipation in others. In a 2006 study published in the journal PediatricsTrusted Source, researchers fed chronically constipated youngsters cocoa husks, the outer shells of cocoa beans abandoned during chocolate manufacture. The husks, rich in fiber, encouraged the youngsters to use the restroom more often and made it simpler for them to do so.
اگرچہ چاکلیٹ کچھ لوگوں میں قبض کا سبب بن سکتی ہے، کوکو یا اس کے اجزاء دوسروں میں قبض میں مدد کر سکتے ہیں۔ جریدے پیڈیاٹرکس ٹرسٹڈ سورس میں شائع ہونے والی 2006 کی ایک تحقیق میں، محققین نے دائمی قبض کے شکار نوجوانوں کو کوکو کی بھوسی کھلائی، کوکو بینز کے بیرونی خول چاکلیٹ کی تیاری کے دوران چھوڑ دیے گئے۔ ریشہ سے بھرپور بھوسیوں نے نوجوانوں کو بیت الخلاء کا زیادہ استعمال کرنے کی ترغیب دی اور ان کے لیے ایسا کرنا آسان بنا دیا۔
How Much Chocolate Can You Eat Without Getting Constipated?
Whether or whether you should consume chocolate and how often you should eat it is determined by how it affects you. There's no need to quit consuming chocolate if it doesn't seem to induce constipation. However, since chocolate is heavy in fat and calories, it should be used in moderation.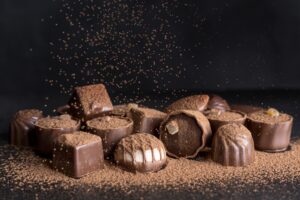 آپ کو چاکلیٹ کا استعمال کرنا چاہیے یا نہیں اور آپ کو اسے کتنی بار کھانا چاہیے اس کا تعین اس بات سے ہوتا ہے کہ اس کا آپ پر کیا اثر پڑتا ہے۔ چاکلیٹ کا استعمال ترک کرنے کی ضرورت نہیں ہے اگر یہ قبض کا باعث نہیں لگتا ہے۔ تاہم، چونکہ چاکلیٹ چکنائی اور کیلوریز میں بھاری ہوتی ہے، اس لیے اسے اعتدال میں استعمال کرنا چاہیے۔
If you find that chocolate causes constipation, consider removing it from your diet to see if it helps. Once you've recovered, you may gradually reintroduce chocolate, a little at a time, to see whether you suffer constipation again.
اگر آپ کو معلوم ہوتا ہے کہ چاکلیٹ قبض کا باعث بنتی ہے تو اسے اپنی غذا سے ہٹانے پر غور کریں تاکہ یہ معلوم ہو سکے کہ آیا اس سے مدد ملتی ہے۔ ایک بار جب آپ صحت یاب ہو جائیں تو، آپ آہستہ آہستہ چاکلیٹ کو دوبارہ پیش کر سکتے ہیں، ایک وقت میں تھوڑی دیر، یہ دیکھنے کے لیے کہ آپ کو دوبارہ قبض ہے یا نہیں۔