What Causes Eyesight To Improve? Is It A Good Sign?
Have you ever thought about what causes your eyesight to improve? Do you want to know the ultimate reason behind your eyesight sudden improvement?
Minor vision problems are common around age 40 and might worsen without treatment. At first, you might need to increase the brightness of the room or hold documents at arm's length to make out the text.
Possibly the glare from headlights is making nighttime driving a challenge for you. Vision loss is a leading cause of disability among the elderly, negatively impacting both self-reliance and happiness.
Find out how your eyesight may change with age and what you can do to protect it.
What Causes Eyesight To Improve? Is It A Good Sign?
Did you know that if your eyesight has been bad and suddenly improves, it might be a symptom of diabetes?
A sudden improvement, or deterioration, in vision might be a warning sign of high blood sugar, even if you don't have other symptoms of type 2 diabetes like numbness or tingling in the hands and feet, lethargy, unquenchable thirst, or a frequent need to go to the toilet.
Why? Having high blood sugar alters the fluid levels all throughout the body, including the eyes. Each of our eyeballs contains a small chamber that is filled with a watery, viscous fluid (aqueous and vitreous humor).
This fluid aids in the preservation of the form of your eye. Your eyesight may improve or worsen depending on how these fluid levels fluctuate.
If you have diabetes and aren't sure it, that's okay. Diabetic symptoms may be so faint that they go unnoticed since they don't affect your quality of life significantly.
So, if you notice a change in your eyesight, either improvement or worse, you should see a doctor right once. Diagnosing diabetes with a blood test is easy.
Diabetes And Eye Health
The Centers for Disease Control and Prevention reports that more than 34 million Americans have diabetes and another 88 million are pre-diabetic. 1 However, only around 10% of the adult population in the United States is aware that they are prediabetic.
Issues with one's eyesight are among the many complications of diabetes. Cataracts, hazy vision, glaucoma, and retinopathy can all occur in people with diabetes, putting them at risk for eventual blindness.
These problems can arise in anybody, but those with diabetes have a higher risk. Cataracts, for instance, tend to develop earlier and proceed more rapidly in diabetics.
A cataract forms when the clear lens of the eye becomes clouded, making it more difficult to see, like looking through a foggy window.
Cataract symptoms can include a decrease in colour contrast, double vision, sensitivity to light and glare, halos around lights, frequent prescriptions for corrective lenses, and the need for greater reading light.
Cataracts may take their time to form, but they will almost certainly cause visual impairment in the long run.
What You Can Do to Help Your Eye Health?
If you have diabetes and suspect or know that you have an eye problem, it is crucial that you take immediate, preventative measures to ensure your eyes remain healthy. Get an eye checkup if you're experiencing any of these symptoms.
The way you see the night has shifted.
A discharge or infection may be present in your eye.
You get constant headaches.
Black spots and floaters are interfering with your eyesight.
Your eyes feel tired for days afterward.
Your eyes seem to be having trouble focusing.
In addition, there are measures you may do to protect your eyesight. Here are some things you may do to lessen the likelihood of developing diabetic eye illness and preserve your vision for as long as possible:
Maintaining healthy blood sugar levels will aid in preserving the fluids within the eyes, hence preserving their normal appearance.
Be mindful of your cholesterol levels; having high cholesterol increases your likelihood of developing eye disorders.
Quit smoking; people with diabetes who smoke are more likely to develop complications like diabetic retinopathy.
Do what you can to keep your blood pressure in check.
Consistent exercise and good eating are two of the best ways to keep your blood sugar and cholesterol under check.
Do something relaxing like meditation or going for a stroll to help you relax.
Improve your hydration levels, as low blood sugar levels are a symptom of being dehydrated.
Throw on some shades.
You should get routine eye checkups.
Sudden Improvement In Vision Can Be A Bad Thing
One patient's report stood out to me while I was examining the report of follow-up calls made to patients who attended the clinic in the preceding month.
The patient said that his vision had much improved, to the point that he no longer needed his spectacles. Whoa, that's weird. Because of his long-sightedness, he has had to use corrective lenses for well over three decades now.
Because of this worry, the subject's vision suddenly improved. After I gave him a call, he repeated the tale he had told to my employees. I told him about my worries and got him to schedule an appointment for a checkup.
Initially, the word "cataract" sprung into my head ("but how could it develop within a month", I pondered). His eyes were reexamined, and other from the fact that his eyesight had much improved in both of them, nothing was found to cause worry.
His health is OK, and there are no red flags in his family background. After developing my suspicion that he was already developing diabetes, I strongly suggested that he visit his doctor immediately. The patient laughed at the joke.
"Diabetes runs in my family, but not in mine." To which I said, "No, I don't believe in miracles," he continued. We need to double-check, I informed him. If the doctor's examination revealed no issues, he may discard his eyewear.
The patient thanked us 3 days later when he phoned. Never in a million years would I have believed anything was wrong if you hadn't called," he added.
More On This
This man had obviously gone to see his doctor and under gone a battery of tests. He had abnormally high concentrations of sugar in his blood and urine. It's a relief that he's started therapy.
However, while blurred vision is a typical symptom of diabetes, not everyone has this symptom.
If you are short-sighted or have normal vision, you may have blurred vision if your blood sugar is too high.
Vision may improve or change for the better in long-sighted persons. Once blood sugar levels return to normal, eyesight returns to normal as well.
This should serve as a reminder to look into the root of any changes in vision, whether for the better or for the worse. This is especially critical in cases when there is no apparent cause for a rapid deterioration in visual acuity.
Top Eight Ways To Improve Vision Over 50
Between the ages of 40 and 50, the majority of individuals experience difficulties with their eyesight, especially when it comes to reading and using computers.
Between the ages of 40 and 60, one of the most prevalent vision problems is difficulty seeing up close. Nonetheless, this is a common occurrence when it comes to the eyes' focusing abilities, and it may worsen over time.
At initially, you might need to read from a great distance. Reading glasses may become unnecessary in the future. It might be difficult to read newspapers and menus printed on paper in low light.
Wearing corrective lenses, such as glasses or contacts, might help your eyesight. Nonetheless, if you're still not satisfied with your eyesight, you might take more measures. Here are eight suggestions for enhancing your eyesight if you're above the age of 50.
1. Eat For Your Eyes
Carrots have long been known to improve eyesight. This may sound cliche, but it's not completely off base. Vitamin A, found in abundance in carrots, is necessary for good eyesight. Vitamin A isn't the only vitamin that helps keep your eyesight in good shape, though. Include vitamin C, vitamin E, copper, and zinc-rich foods in your daily diet.
Macular degeneration is a common problem among the elderly. Macular degeneration can be slowed by taking antioxidants. This calls for a diet rich in foods like eggs, pumpkins, carrots, dark leafy greens, and sweet potatoes.
A healthy diet that includes fish can also benefit your eyes. DHA is a fatty acid that reinforces cell membranes, including those in your eyes, and it is found in abundance in coldwater fish like mackerel, wild salmon, and cod.
2. Exercise For Your Eyes
The muscles in your eyes require regular workout to be strong and healthy. When your eyes feel fatigued in the morning and again just before night, it's a good time to practise some eye exercises. One month of regular effort may be enough to see positive results.
The first step is to cover your eyes with your heated palms for five seconds. Try it out three times. Aside from being a humorous way to convey irritation, rolling your eyes has health benefits. Raise your head and make around 10 clockwise and counterclockwise circles with your eyes.
Concentrate on the tip of a pen held at arm's length to improve concentration. Bring the pen to within six inches of your nose, and do it very gently. Ten times over, repeat these steps.
3. Full Body Exercise For Vision
Twenty minutes of exercise every day is beneficial for the health of your eyes and the rest of your body. The tiny blood vessels in the eyes benefit from increased blood flow because it flushes out any potentially dangerous compounds that may have been accumulated. Physical activity need not be strenuous. A quick stroll is all that is required.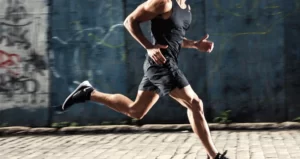 4. Rest For Your Eyes
Even if it's just for a few minutes, closing your eyes can help. This may be done once each hour, or several times an hour if you're really cranking out the work.
And if you spend a lot of time at work reading or using a computer, closing your eyes might be a welcome break. Doing this exercise regularly helps prevent your eyes from being tired or overworked.
5. Get Enough Sleep
Just closing your eyes for a few minutes won't do the trick. Your body needs to get consistent, rejuvenating sleep. Sleep is essential to good health, as any medical professional will tell you. Your eyes will seem fresh and refreshed after a good night's sleep.
Taking regular breaks to give your eyes a rest is especially helpful if you participate in strenuous visual activity like working on a computer or reading a book.
6. Create Eye-Friendly Surroundings
Everyday life is full of potential eye hazards.
You may damage your eyesight by, among other things, spending too much time in front of a computer, getting chlorinated water in your eyes, reading in poor lighting, and using fluorescent lights.
Keep an eye out for these issues and take preventative measures as necessary to minimise eye damage.
7. Avoid Smoking
Smoking is dangerous for your eyes in addition to being bad in many other ways.
Cataracts and age-related macular degeneration are both exacerbated by smoking (AMD). In addition, smoking lowers antioxidant levels, which are important for healthy eyes.
8. Have Regular Eye Exams
When it comes to eye exams, most individuals wait until they're having trouble seeing. It may be too late by that time. In order to catch issues at a manageable stage, regular eye exams should begin early. In reality, if vision problems are caught early enough, they may usually be fixed.
Having your eyes checked on a regular basis can assist by:
Eyeglasses that formerly provided the optimum diopter may now be doing more harm than good to your eyes since vision changes with time.
Double-check the symmetry: Muscles in the eyes might get strained if you often turn or cross your eyes. It is important to see an eye doctor for an early diagnosis of this problem to prevent any more harm to your eyes.
Eye colour: As we age, our eyes darken or lighten, and a corrective lens will hide any flaws.
Examining the retina for blood vessels is a possible way to diagnose diabetes. Eye tests show more than just visual problems.