How Can I Lose 10 Pounds In 7 days? Is It Possible – Military Diet
Listen to this, privates! No GUFF is being taken away from you or anybody else on the NEW diet that has arrived in town! This is because it is set up in the style of a BOOTCAMP.
Challenging times lie ahead! What a ride this is going to be! In the end, you'll be better able to battle your way through your days and become a soldier since you'll have been forced to get into shape.
That's what the Military Diet says, at least. According to its bizarre website, you might lose up to 10 pounds in one week following this crash diet.
To top it all off, according to the Military Diet, you may lose weight while enjoying vanilla ice cream (quite a lot of it, in fact).
In addition to whole meals, there is no need to purchase any pills or potions for the remainder of the diet.
If you want to reduce weight rapidly, this promise sounds excellent. Isn't it possible that you enjoy the tough-love method?
The Military Diet is an Internet sensation, but there are a few things you should know before signing up for it.
Mysterious diet: What's going on? What is its origin, and is it in any way legitimate? What kind of military does this diet come from?
What is the Military Diet?
As described on its website, the Military Diet calls for three days of eating only certain items for breakfast, lunch, and supper.
On the first day, for example, you're only allowed to eat 1,078 calories, which is incredibly limiting. You require between 2,400 and 2,600 calories daily for an average, moderately active guy.
Read More: How To Lose Weight With A Busy Schedule?
Unlike many popular weight-loss plans, the Military Diet does not ban large food groupings. Your daily calorie intake for the first three days should be between 1,200 and 1,500.
For the following four days, you are advised to eat healthfully and stay at 1,600 calories each day.
So what do you eat on the Military Diet? Here's a sample plan.
Breakfast
cup of black coffee
half of a grapefruit
a slice of dry toast
Lunch
half a cup of tuna
slice of dry toast
black coffee
Dinner
3 ounces of any meat
cup of green beans
half of a banana
small apple
cup of ice cream
Avoiding high-calorie snacks and alcoholic beverages is an essential part of losing weight. Diet supporters claim that artificial sweeteners mess with insulin levels and induce weight gain. Hence they're outlawed. As a result, natural sweeteners like Stevia are frequently recommended in diets.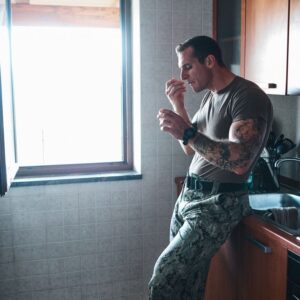 Those unable or unwilling to consume particular meals might find alternatives on the internet. If grapefruit isn't your thing, you may still lose weight by mixing baking soda with water. Isn't that food just so good?
Why is it called The Military Diet?
Even thoughTheMilitaryDiet.com contains a wealth of valuable resources, including a FAQ, a weblog, and vegetarian meal plans, no writers, experts, or website owners are identified on the site.
The name indicates a military connection. However, the page does not claim any military affiliations. When MensHealth.com hears back, we'll update this post with any new information.)
In other words, the Military Diet has no valid certification or scientific basis.
The term indicates that it has been tried and tested to aid US soldiers in getting in shape rapidly. It's not.
It has formerly been referred to as the Cleveland Clinic, Mayo Clinic, Kaiser, and Birmingham Hospital Diet. None of these groups, according to CNN.com, have officially approved the diet.
Roland Paquette, PA-C, an assistant professor in physician assistant studies at UT Health San Antonio, tells us that the Military Diet is not affiliated with the military in any way.
An ex-Green Beret in the US Special Forces, Paquette, says that the army didn't implement a specific diet to get trainees in shape (he served from 2004-to 2006).
Is The Military Diet safe or healthy?
When dieting severely, you may lose some fat and gain back some water weight and muscle mass. Under-eating (active males should consume 2,800 calories a day) can cause cognitive fog, poor sleep, negative moods, and cravings that escalate into binge eating.
Unlike other diets like keto, which tend to remove whole food groups, the Military Diet offers a mix of protein, carbs, and fats — albeit in modest amounts, according to Paquette — making it an edge over other weight reduction strategies.
Aside from artificial sugar, the Military Diet doesn't vilify any foods or dietary groups. Science has yet to find a conclusive relationship between fake sugar and insulin. Even though this may seem paradoxical, diets with fewer limitations are simpler to follow.
Paquette, however, believes that the diet's requirements are too broad to be deemed healthful. There is no mention of whole-wheat or white bread on the first day's breakfast menu.
How Can I Lose 10 Pounds In 7 days? 
The answer is quite simple to follow the military diet we have mentioned above. There is a good chance that this strategy will help you lose weight, but it is unlikely to help you lose more than 10 pounds. According to our specialists, most of it is likely water weight.
According to Houston Methodist Hospital dietician Kristen Kizer, the Military Plan website claims that the particular items you consume on a diet will help you "burn fat," but this is just not true.
It's a "fad diet" written all over the Military Diet, she adds, stating that certain meal combinations may help you lose weight and allow for harmful imitation foods, such as hot dogs and one cup of ice cream, to be consumed.
Read More: How To Lose Weight Without Diet Just Exercise?
Kizer explains that while most doctors recommend a weekly weight loss of one to two pounds, "even this might be tough" for some people. It's difficult to say that one diet can help everyone lose a specific amount of weight in a given period since weight loss is so dependent on a wide variety of factors, from genetics to body weight, that it's impossible to make such a guarantee.
Even if you lose a few pounds, you'll probably gain it all back, says Kizer, because it's most likely water weight. A "feast-or-famine cycle can have significant long-term impacts on your metabolism," she notes, making it more difficult to recover the weight you've lost.
Dieters are urged to combine the diet with intermittent fasting to get more significant outcomes. It's important to know that throughout the day, those who practice intermittent fasting do not consume any food. Fasting during the rest of the day is encouraged as part of the Military Diet to boost fat burning.